Different types of tractors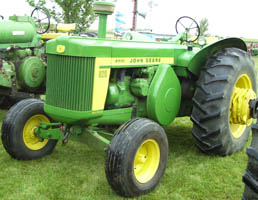 Standard
The standard front end is also known as a "regular" or "wheatland". It features an axle with a fixed distance between the front wheels. The standard front end was the first design used on early steam traction engines and gasoline tractors. These machines used a solid front axle that pivoted in the center, similar to a horse-drawn wagon.
While the standard front end has always been used on tractors, it became less popular during the middle of the twentieth century, when the tricycle design became popular. The standard front end remained the choice for the vast wheat farms of the western United States and Canada. This led to the standard being known as a "wheatland".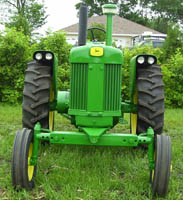 An adjustable wide front end is similar to the standard front end. The adjustable wide front allows the wheels to be moved to different widths to accomodate driving between rows of crops. By properly spacing the front and rear axles, the tractor will straddle several rows, enabling the operator to drive down them without damaging the crops. In addition to adjustments on the axle itself, some tractors allow the front wheel tread to be changed by reversing the mounting of the wheels, or through the use of spacer on the hub.
Standards have always been the style of choice for serious pulling tractors, the largest tractors in a manufacturer's range were seldom available as a row crop. Standards are also the default style for industrial tractors. The heavy front axle is well-suited to the demands of loader work.
Tricycle
A tricycle (sometimes called "narrow") is a type of row-crop front end to enable the tractor to work between rows of planted crops, typically for cultivating. The tractor has either a single front wheel, or two front wheels that are narrowly set together. The front wheels are usually angled towards eachother in a 'V' shape so that both wheels fit between a crop row. The rear wheels are typically adjustable to accomodate a variety of row spacings.
The
Farmall
, introduced by International Harvester in 1924, pioneered this arrangement and quickly became one of the most successful tractors of all time. The tricycle front end became the dominant tractor design in the United States from the 1930s through the 1950s. In the 1960s, chemicals replaced mechanical tillage as the primary means of crop cultivation. With this development, the need for tricycle style tractors dropped sharply, and production of this style stopped in the 1970s.
In addition to the ability to move between rows of crops, the tricycle style of tractor also has excellent manuverability. With the use of individual rear-wheel brakes a tricycle tractor can pivot within its own length around one wheel. This tight turning radius is a great asset when working in confined areas or when mowing. The design is somewhat unstable when compared with widely-spacing front wheels, causing dangerous rollovers. The design is also difficult to use with a front-end loader, particularly when the tractor does not have power steering.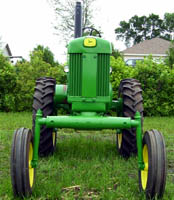 High Crop
The high-crop tractor features tall spindles on the front axle, and drop-down rear axles, to provide it with a very high ground clearance. These tractors are very useful for farms growing vegetables, flowers, nursery plants, or any other tall and bushy crop that must be worked. Some manufacturers referred to their high crop tractors as "vegetable" models.
High crop tractors have always been rare when compared with more conventional designs. For antique tractor collectors, high crop models often command very high prices due to their low production volume.
- Info from TractorData.com -
____________________________________________________
How to read the serial number list:
Tractor serial number lists nearly always show the
first
tractor built in each year. The other tractors for that year will have successively higher numbers. Your serial number should lie
between
two of the stated numbers.
Example serial number list:
Year
Number


1980
501


1981
879
<<< 900
1982
1034
1983
2103


Example:
if your serial
number is 900
, then your tractor was
built in 1981
.
The list only shows the number from the first tractor built in each year. Unless you happen to have the first first tractor off the production line, then your particular number will not be on the list. Your number will lie between two listed numbers.
Common serial number problems: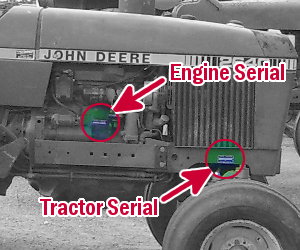 Find the REAL serial number
There are usually a lot of different numbers on a tractor. The engine, front axle, and cab may all have their own serial numbers. Various components may have parts or casting numbers. Make sure you have actually found the tractor serial number, and not one of these other numbers.
Read the number carefully
On older tractors, the serial number plate has often faded. Make sure you do not confuse a 7 for a 1. Also, ensure you have read the entire number.
If the plate has faded very badly, try making a rubbing of the imprint. Place a piece of tissue paper over the plate and rub gently with charcoal or a pencil. Another method is to color the number with a marker and then quickly wipe it off, hoping to leave ink in the stamping. Some people have found that they can read the number off the back side of the plate
A serial number is not a tractor's life story
In general, you cannot determine anything but the year from the serial number of an older tractor. You cannot find the exact date of construction, original dealer, or previous owners. Your best change at finding your tractor's history is to talk to the person you purchased it from. Find out who they bought it from. If you're lucky you may be able to trace it back to the original buyer and the original dealer. If you are
really
lucky, that dealer would still be around and have records of the sale. There are couple of exceptions...
John Deere owners can contact the
Two-Cylinder Club
to have their serial number researched for a fee. I am not aware of this service being available for any other brand. If it is, email me and I will post the information.
Newer tractors from major brands will likely be tracked by the factory and its dealer network on computer. If you tractor was built around 1990 or later you may be able to have a dealer run the serial number. The exact information available would depend on the dealer and brand, and what they are willing to release to you. In general, they track sales, repairs, and stolen equipment.
IH owners: look for the U
Many International Harvester tractors will have a long number sequence with the letter "U" in the middle. The numbers on the list correspond to the digits after the letter.
- Info From www.TractorData.com


________________________________________
2011 Hastings Little Log House Show
TractorData - August 01, 2011 The 21st annual Antique Power Show was held on July 29 to 31 at the Little Log House Pioneer Village in Hastings, Minnesota. The 160-acre Pioneer Village is the work of Steve and Sylvia Bauer, who have preserved 50 buildings on the site. The big attraction this year was Porky's drive-in. The landmark Saint Paul drive-in sat on University Avenue for nearly 60 years before closing in 2010. The Bauers purchased the building and moved it to the village, including an authentic re-creation of the pig sign. Porky's wasn't the only new building this year, there is also a new pavilion built using columns from Red Wing's old music hall and rafters from a 150-year-old church in Carver. The military display features a World War II era quonset hut, reconditioned and set up to resemble a barracks.


John Deere tractors lined up on Sunday for the daily parade through the Little Log House Pioneer Village.
Antique tractors in front of the featured exhibit buildings. An early John Deere 420, unstyled model A, John Deere GPWT, and a Waterloo Boy.
The long green line. Featured John Deere tractors on exhibit.


Vintage John Deere lawn and garden tractors. A diesel model Deere 332, 112, 140 H1, 110, and a John Deere 140 H3 in the front with miniture hay wagon.
Cars lined up to get to the Little Log House Show. There was a large turnout on Saturday, with traffic that morning backed up over one mile to get in.
The new site for Porky's Restaurant, a big attraction for the crowds this year. This legendary drive-in was moved to the Little Log House Pioneer Village this year.


Original condition John Deere model 60 tractor pulling a Deere 30 pull-type combine.
A group of International Farmall Cub tractors in the parade.
This John Deere model L tractor had some problems during the parade and needed a push. These guys are lucky it wasn't a model R.


A row of vintage Chevy pickups in front of the service station.
Historical military equipment on display at "Camp Hastings". In the background is the camp's new Quonset Hut, on display as a replica barracks.
A styled (1949) John Deere model D equppied with steel wheels.


_______________________________________
Red Power Round-Up
- June 24, 2011 The 22nd National Red Power Round Up was held in Albert Lea, Minnesota from June 23 to 25, 2011. The show was hosted by IHCC #15 at the Freeborn County Fairgrounds. 2011 featured the Gold and White Demonstrator tractors, as well as the 50th Anniversary of Cub Cadet.

The RPRU show grounds in Albert Lea.
Long row of Farmall letter and hundred series tractors.
Gold and White Demonstrator tractors on display.
The business end of an International 4300 tractor.
Cub Cadet tractors on display for the 50th Anniversary.
Line-up of International four-wheel drive tractors.
Detail of Caledonia Implement decal on a 1206.
International Gold Demonstrator tractors in the parade.
Danny Anderson's 5388 "prototype" tractor.
Antique tractor shop display.
Farmall Super M-TA Electrall with 55W electric baler.
Demonstrator Farmall C with white baler.
_________________________________________
Antique Tractors - Plow Day
**Antique tractors at work in Maine.**
_________________________________________
Paul Bussert Auction
Peter Easterlund - October 24, 2010 The Bussert estate auction was held on Octobr 21 and 22 in Fairbault, Minnesota. The massive auction featured over 700 antique tractors with multiple rings on both days to sell over 3,000 total lots. Paul Bussert passed away in 2008. Mr. Bussert was an active collector and parts dealer, most of the tractors were salvage units from Bussert Tractor Parts.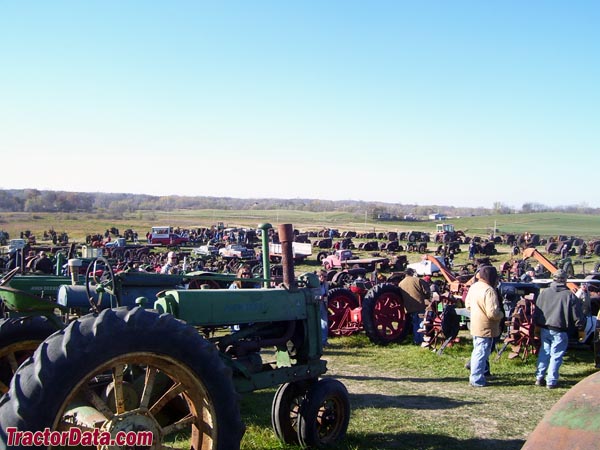 Rows of 700+ antique tractors at the Bussert auction.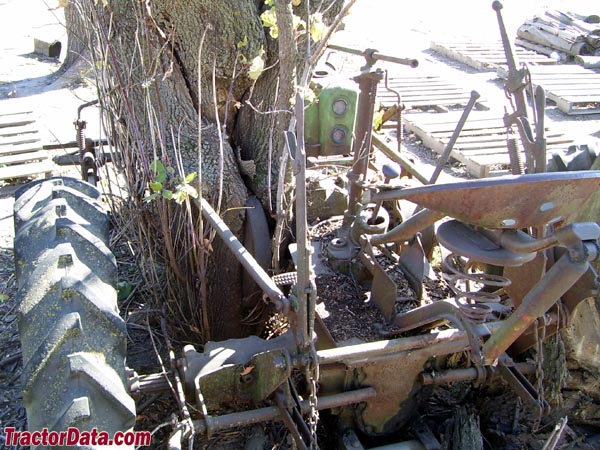 This John Deere model H has been in this spot for a long time. The tree has grown completely around the flywheel.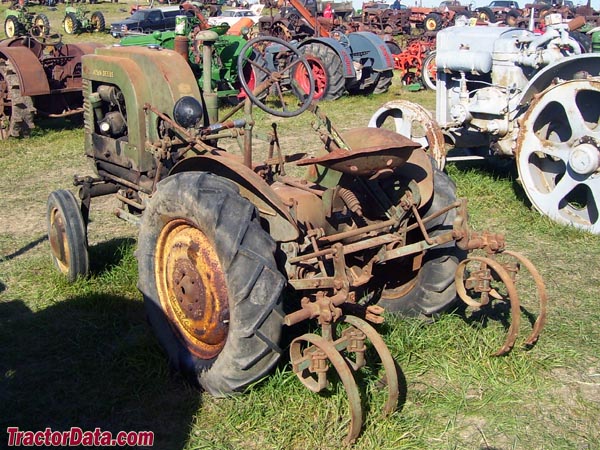 An "original" John Deere model L tractor. It not only has the serial number tag, but its operator decals.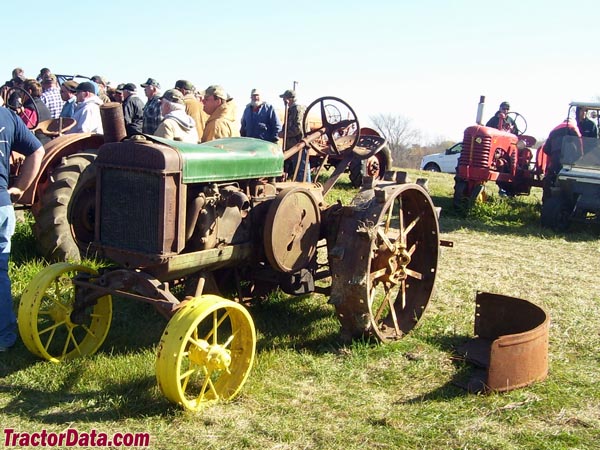 The wheels on this John Deere GP were freshly installed from after being painted. The hood dent was seen on several of the tractors, the result of a shed collapsing under snow load.
The John Deere R with home-made cab has Easterlund Implement decals featuring the four-legged John Deere logo.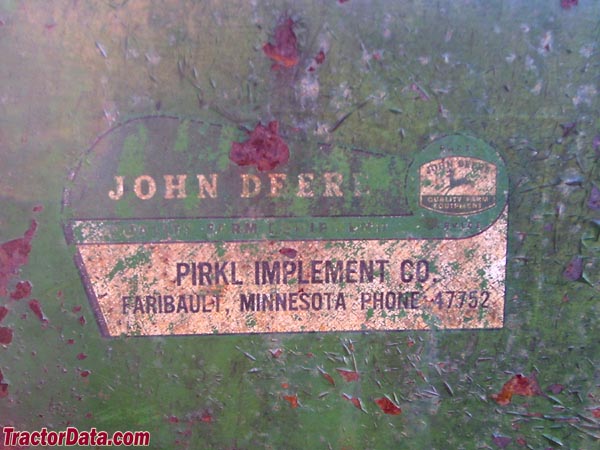 This Pirkl Implement decal, found on a model A, has the short-lived "Quality Farm Equipment" (QFE) John Deere logo from the early 1950s.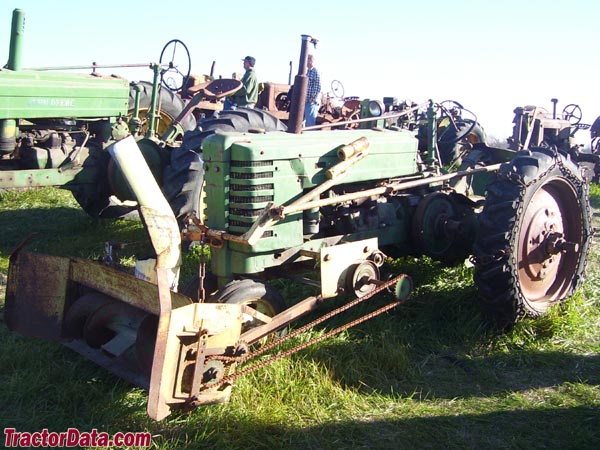 This John Deere model H is all set for winter with front-mounted snow blower and tire chains.
_________________________________________________________________________________
Le Sueur Pioneer Power Show
- August 29, 2010 The 2010 Le Sueur County Pioneer Power Show was held August 27 through 29. Clear skies and bright sun provided mid-summer like temperatures. The show opened with the annual auction and a large crowd was already on-hand Friday morning. An English-built Field Marshall tractor was at the auction. The single-cylider hot bulb engine was a common tractor style in Europe through World War II, but are very rare in North America.
The Hertiage of Oliver and Hart-Parr Expo were featured this year, bringing out a lot of green equipment. A wide variety of other brands were also on display along with antique engines, construction equipment, and horse-drawn implements. The 2011 show will feature Minneapolis, Twin City, and Moline machinery.

The crowd bids on a Farmall H restored by the local FFA.
Oliver and Hart-Parr were the featured tractors for 2010.
A threshing crew works in the August sun.
Saturday's tractor pull featured stock and custom machines.
Dave Preuhs' Thresherman Special Hart-Parr works out on the Baker Fan.
The North Central Wheel Horse Events Club brought a large display of equipment.
A steam engine powers the pioneer saw mill.
Farmall tractors lined up on display.
A John Deere D stands ready for belt work.
_______________________________________________________________________
Take a LOOK at THIS John Deere Collection!

________________________________________________________________________________



About the Event:
For more than 20 years, Mecum Auctions has specialized in the sale of classic, muscle and high-end collector cars, providing automotive enthusiasts with an exciting environment to buy and sell vehicles. Now, the auction experts are bringing the Mecum experience to the tractor world with their first-ever Gone Farmin' Tractor Auction, Aug. 7, 2010, in Walworth, Wis.
Mecum's Gone Farmin' Auction will offer more than 200 vintage tractors up for sale, including a rare 1954 Farmall Super Mdv Ta Tractor (Lot S44) that is one of 64 Super MTA high crop tractors built. Of those 64 built, this Farmall is one of less than 20 that came with a diesel engine.
"Antique tractors have become valuable investment pieces and we are excited to bring a variety of sought-after tractors to one central location for collectors to inspect, enjoy and purchase," said Dan Mecum, operations manager for Mecum Auctions. "Attendees can expect to see everything from a 1960 John Deere Veggie Special to International, Allis Chalmers and Case tractors go up for bid."
A second generation member of the company, Dan has a personal interest in restoring antique tractors and is leading Mecum's tractor auction. His father, Dana Mecum, started The Mecum Auction Company in 1988 in Rockford, Ill.
The Gone Farmin' Vintage Tractor Auction takes place on a 10-acre property off Highway 14 near Lake Geneva and is open to the general public at no cost. Mecum is currently accepting consignments and bidder registration for the event. For more information, email
tractors@mecum.com
. Consignment, bidder and event information is available online at
www.Mecum.com
or by calling 815.568.8888.
Schedule:
Gone Farmin' Tractor Auction
August 7, 2010
445 S. Main St. (Route 14)
Walworth, WI 53184
Preview: Friday 3 p.m. – 7 p.m.
Auction: Saturday 10 a.m. – 5 p.m.
See more Auction Events in the
Iron Memories Antique Tractor Auction Page